Quels sont les modes et frais de livraison ?
What are the delivery methods and costs?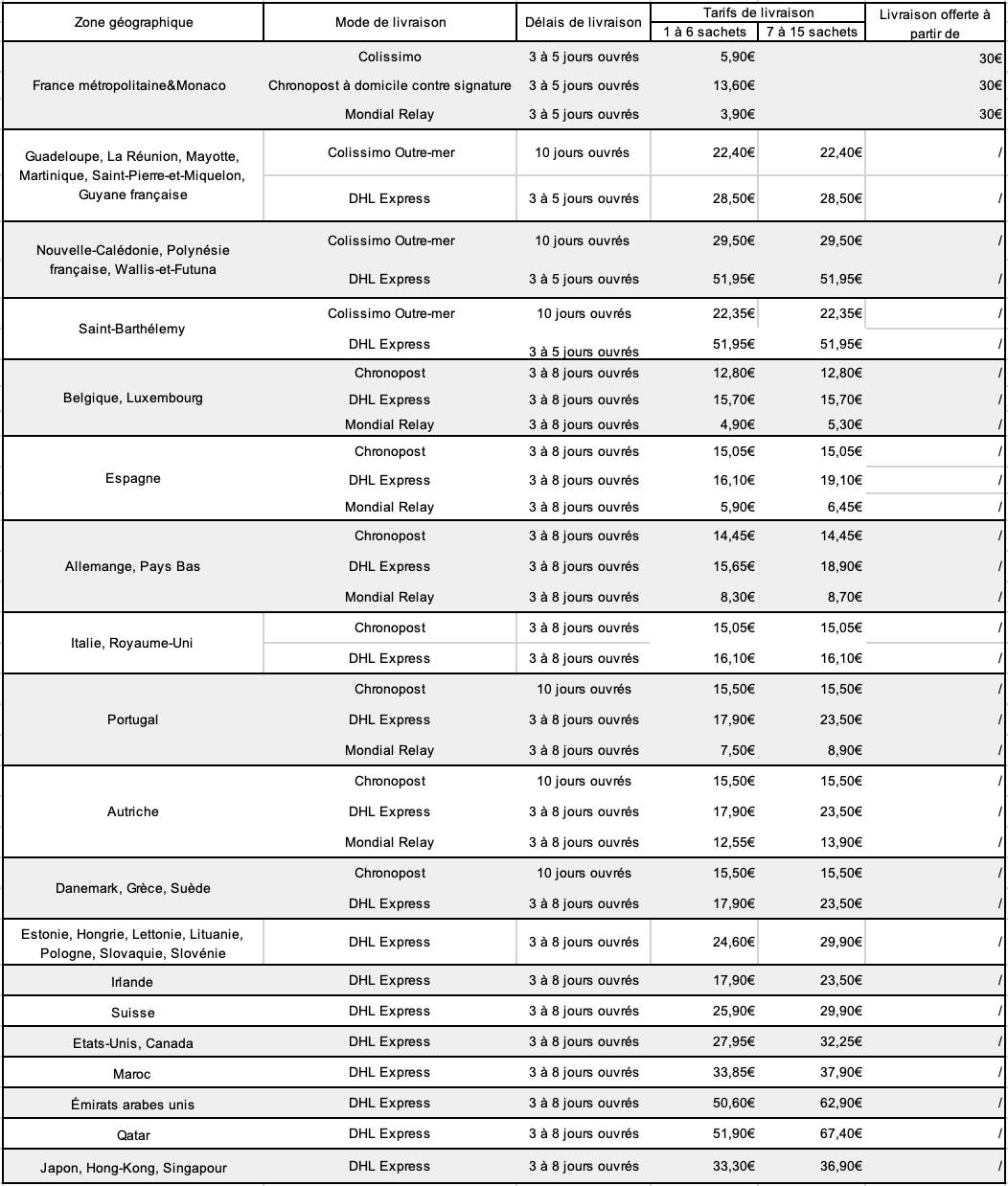 For countries outside the European Union, customs fees may apply. They are your responsibility and will be requested upon delivery of your package by the country's customs office.
We do not ship to the following countries:
Afghanistan, South Africa, Albania, Algeria, Andorra, Angola, Anguilla, Antigua and Barbuda, Saudi Arabia, Argentina, Armenia, Aruba, Australia, Azerbaijan, Bahamas, Bahrain, Bangladesh, Barbados, Belarus, Belize, Benin, Bermuda , Bhutan, Bolivia, Bosnia and Herzegovina, Botswana, Brazil, Brunei, Burkina Faso, Burundi, Cambodia, Cameroon, Cape Verde, Chile, China, Cyprus, Vatican City, Colombia, Comoros, Congo - Brazzaville, Congo - Kinshasa, South Korea, Costa Rica, Ivory Coast, Curacao, Djibouti, Dominica, Egypt, El Salvador, Ecuador, Eritrea, Eswatini, Ethiopia, Fiji, Finland, Gabon, Gambia, Georgia, South Georgia and South Sandwich Islands, Ghana, Gibraltar, Grenada, Greenland, Guatemala, Guernsey, Guinea, Equatorial Guinea, Guinea-Bissau, Guyana, Haiti, Honduras, Christmas Island, Ascension Island, Isle of Man, Norfolk Island, Åland Islands, Cayman Islands, Islands Cocos (Keeling), Cook Islands, United States Outlying Islands, Falkland Islands, Faroe Islands, Pitcairn Islands, Solomon Islands, Turks and Caicos Islands, British Virgin Islands, India, Indonesia, Iraq, Iceland, Israel, Jamaica, Jersey, Jordan, Kazakhstan, Kenya, Kyrgyzstan, Kiribati, Kosovo, Kuwait, Laos, Lesotho, Lebanon, Liberia, Libya, Liechtenstein, Macau SAR China, Macedonia, Madagascar, Malaysia, Malawi, Maldives, Mali, Malta, Mauritius, Mauritania, Mexico , Moldova, Mongolia, Montenegro, Montserrat, Mozambique, Myanmar (Burma), Namibia, Nauru, Nepal, Nicaragua, Niger, Nigeria, Niue, Norway, New Zealand, Oman, Uganda, Uzbekistan, Pakistan, Panama, Papua New Guinea, Paraguay, Caribbean Netherlands, Peru, Philippines, Central African Republic, Dominican Republic, Czech Republic, Romania, Russia, Rwanda, Western Sahara, Saint Kitts and Nevis, San Marino, Saint Martin, Saint Vincent -and the Grenadines, Saint Helena, Saint Lucia, Samoa, Sao Tome and Principe, Senegal, Serbia, Seychelles, Sierra Leone, Somalia, Sudan, South Sudan, Sri Lanka, Suriname, Svalbard and Jan Mayen, Tajikistan, Taiwan, Tanzania, Chad, French Southern Territories, British Indian Ocean Territory, Palestinian Territories, Thailand, Timor-Leste, Togo, Tokelau, Tonga, Trinidad and Tobago, Tristan da Cunha, Tunisia, Turkmenistan, Turkey , Tuvalu, Ukraine ,Uruguay, Vanuatu, Venezuela, Vietnam, Yemen, Zambia, Zimbabwe
Pour les pays hors Union Européenne, il est possible que des frais de douanes soient appliqués. Ils sont à votre charge et vous seront demandés à la livraison de votre colis par le bureau de douane du pays.
Nous ne livrons pas dans les pays suivants : 
Afghanistan, Afrique du Sud, Albanie, Algérie, Andorre, Angola, Anguilla, Antigua-et-Barbuda, Arabie saoudite, Argentine, Arménie, Aruba, Australie, Azerbaïdjan, Bahamas, Bahreïn, Bangladesh, Barbade, Bélarus, Belize, Bénin, Bermudes, Bhoutan, Bolivie, Bosnie-Herzégovine, Botswana, Brésil, Brunei, Burkina Faso, Burundi, Cambodge, Cameroun, Cap-Vert, Chili, Chine, Chypre, Cité du Vatican, Colombie, Comores, Congo - Brazzaville, Congo - Kinshasa, Corée du Sud, Costa Rica, Côte d'Ivoire, Curaçao, Djibouti, Dominique, Égypte, El Salvador, Équateur, Érythrée, Eswatini, Éthiopie, Fidji, Finlande, Gabon, Gambie,Géorgie, Gorgie du Sud et îles Sandwich du Sud, Ghana, Gibraltar, Grenade, Groenland, Guatemala, Guernesey, Guinée, Guinée équatoriale, Guinée-Bissau, Guyane, Haïti, Honduras, Île Christmas, Île de l'Ascension, Île de Man, Île Norfolk, Îles Åland, Îles Caïmans, Îles Cocos (Keeling), Îles Cook, Îles éloignées des États-Unis, Îles Falkland, Îles Féroé, Îles Pitcairn, Îles Salomon, Îles Turques et Caïques, Îles Vierges britanniques, Inde, Indonésie, Irak, Islande, Israël, Jamaïque, Jersey, Jordanie, Kazakhstan, Kenya, Kirghizistan, Kiribati, Kosovo, Koweït, Laos, Lesotho, Liban, Libéria, Libye, Liechtenstein, Macao RAS de Chine, Macédoine, Madagascar, Malaisie, Malawi, Maldives, Mali, Malte, Maurice, Mauritanie, Mexique, Moldavie, Mongolie, Monténégro, Montserrat, Mozambique, Myanmar (Birmanie), Namibie, Nauru, Népal, Nicaragua, Niger, Nigeria, Nioué, Norvège, Nouvelle-Zélande, Oman, Ouganda, Ouzbékistan, Pakistan, Panama, Papouasie-Nouvelle-Guinée, Paraguay, Pays-Bas caribéens, Pérou, Philippines, République centrafricaine, République dominicaine, République tchèque, Roumanie, Russie, Rwanda, Sahara occidental, Saint-Kitts-et-Nevis, Saint-Marin, Saint-Martin, Saint-Vincent-et-les Grenadines, Sainte-Hélène, Sainte-Lucie, Samoa, Sao Tomé-et-Principe, Sénégal, Serbie, Seychelles, Sierra Leone, Somalie, Soudan, Soudan du Sud, Sri Lanka, Suriname, Svalbard et Jan Mayen, Tadjikistan, Taïwan, Tanzanie, Tchad, Terres australes françaises, Territoire britannique de l'océan Indien, Territoires palestiniens, Thaïlande, Timor-Leste, Togo, Tokelau, Tonga, Trinité-et-Tobago, Tristan da Cunha, Tunisie, Turkménistan, Turquie, Tuvalu, Ukraine ,Uruguay, Vanuatu, Venezuela, Vietnam, Yémen, Zambie, Zimbabwe